Previously, we've covered new e-commerce trends about digital payments, mobile commerce, omnichannel strategy, and the application of big data. Today, let's move onto another prevalent trend arousing in the e-commerce universe, that's "Voice Search"🎙.
Is voice search really the future of search or just temporary hype? The answer is neither. Voice search is not the future since it has been here under our nose for quite some time. Over the last few years, voice search has been quietly growing and gradually taking over the search market. It all started back in 2011 when Google announced that it would begin to roll out Voice Search on Goggle.com for the coming years. Since then, it progressively made its way into the consumers' households, minds, and everyday lives.
In this post, we'll unfold the recent stats and trends about voice search, the reasons why your e-commerce business should follow this trend, as well as some key takeaways 💡.
Sound interesting? Keep reading! 😉
Understanding voice search: stats and trends
The way consumers search has changed 👀. Instead of typing a question into your mobile phone or computer, you can now say the question out loud, and Google will present you the answer in a second.
Some claim that nearly gone are the days of typing in a search query. According to a recent PwC study, 71% of consumers prefer to use voice search to conduct a query over the traditional method of typing ⌨️. And already, 50% of all searches are voice searches.

Why do people love voice search so much 🥰? Because it's more convenient and it works just as fine as a desktop search. Statistically speaking, nearly 75% of voice search results will rank in the top 3 positions for a particular question on a desktop search 👍.
Voice Search has also changed where people search because it is being used more and more outside of peoples' homes 🏡. As the chart below presents, recent stats suggest that it's more likely that voice search will be used more in public settings than in private ones.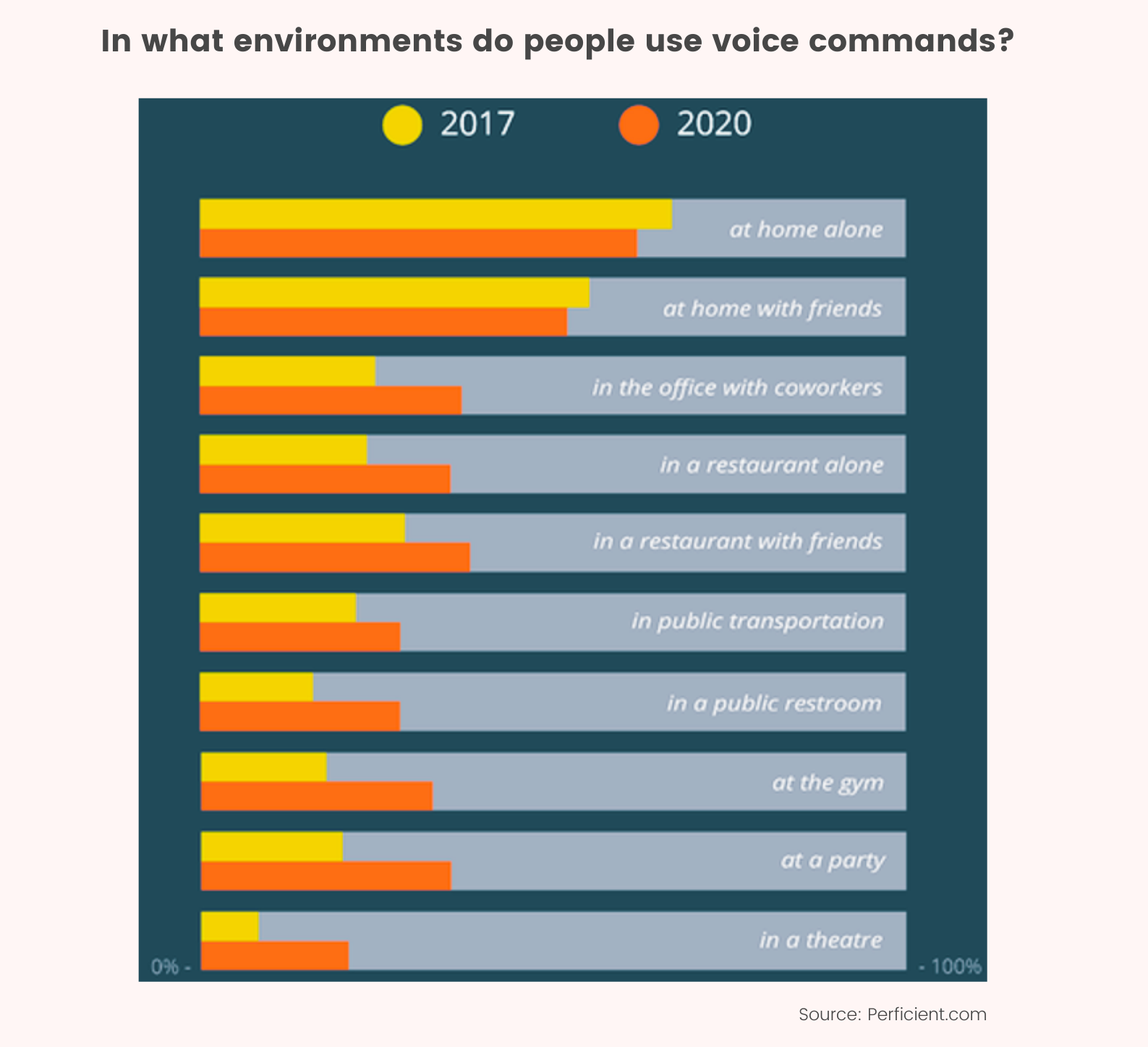 Why should your e-commerce business follow the trend of voice search?