Back in 2019, Forbes called for AI-powered intelligent commerce search and anticipated that it was on the way.
Today, it has already been a reality 🌟. Clerk Search is an intelligent search engine built just for e-commerce, which makes it possible to personalize search experiences and always show the most relevant products that actually convert 🛒 !
The e-commerce world is evolving year on year. Are you curious about: What is the state of e-commerce site search? How important is it to your e-commerce business? And what are the future trends?
Look no further – we've compiled these 26 e-commerce search stats and trends that will both shock and amaze you 😎
Let's dive right in!
The state of e-commerce search
87% of shoppers begin

their product searches online.
64% of people use search to address th

e

"I-want-to-buy" moment.
Up to

30% of visitors use a site search box

when one is offered.
84% of customers want to find a solution by themselves using search engines.
Nearly

84% of companies

do not actively optimize or measure their on-site search.
Still,

70% of desktop e-commerce search implementations are unable to return relevant results for product-type synonyms.
Not all e-commerce sites can process complex search queries. For example,

a 2021 study conducted on e-commerce sites in Nordic countries showed that only 11% of users would see results matching their entered search queries.
👀 Are your site looking for a solution? Clerk's search engine supports natural language processing (NLP), understanding your webshop visitors' complex search queries just like a real human: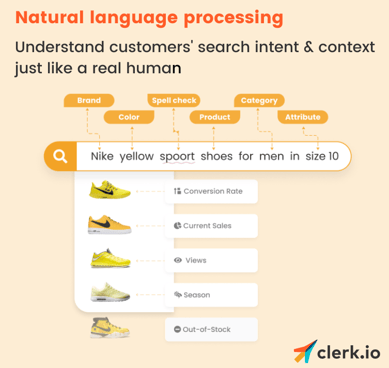 Autocomplete

can boost sales and

conversions by as much as 24%
The importance and benefits of using site search
Internal on-site search is a must-have feature

for e-commerce websites, as

43% of users on retail websites

go directly to the search bar.
In general, s

ite sea

rchers are

2-3x more likely to convert

.
Think with Google finds out tha

t

39% of purchasers

are

influenced by a relevant search.
In most cases,

conversion rates nearly doubled

from customers who used on-site search and found what they were looking for. And as for Amazon, its

conversion rate shoots up 6x

when visitors do a search (2% → 12%).
On some sites,

searchers account for roughly 40% of total revenue

.
Don't want to lose your customers?

👉

Provide an excellent search experience. Because

as many as 68% of shoppers

would NOT return to a site that provided a poor search experience.
Consumers who use search are

4x more likely to buy

. Searchers also drive more revenue,

spending 2.6x more

across mobile and desktop than those who don't use search.
Site search optimization can drive a

43% increase

in conversion rates.
After

Vitarock optimized its internal site search with Clerk,

49%

of its customers buy products via search. And after using Clerk Search, the likelihood of customers converting increases by 12.9x.
Despite all the above-mentioned conversion potentials,

only 15% of companies

have resources dedicated to optimizing site search. This points to an opportunity for you to stay ahead of the game: optimize your internal site search today with Clerk's AI-powered intelligent search engine!
Top trends: Mobile search & voice search
Mobile as a share of total e-commerce is projected to reach

72.9%

worldwide by this year

.
Mobile searches for "online shopping" have grown

180% in the past two years

.
Voice-based shopping is expected to increase to

$40

billion in 2022! Some experts project that

voice commerce, or voice-based shopping, will be the future of digital shopping

.
71% of consumers

prefer using voice search to conduct a query over the traditional method of typing

⌨

️ .
People love using voice search. Because it's more convenient and it works just as fine as a desktop search. Statistically speaking, nearly

75%

of voice search results will rank in the top 3 positions for a particular question on a desktop search.
52% of voice-assistant users say they

use voice tech several times a day

or nearly every day, compared to 46% before the COVID outbreak.
91% of companies

are making significant investments in voice search.
📰 Learn more about the latest facts and trends of voice search right here.
A few leading retailers have started to apply search data

to inform their business strategies and have seen excellent outcomes. Unfortunately, when I say a few, I really mean it -

O

nly

7% of companies report

learning from site search data

and using that data in other areas of their business.
👉 With Clerk Search, you can utilize real-time search analytics and insights to drive performance and inform future business strategies. In specific, you can better understand customers' current buying interests by analyzing what they're searching for and uncover lost sales opportunities by analyzing non-converting searches: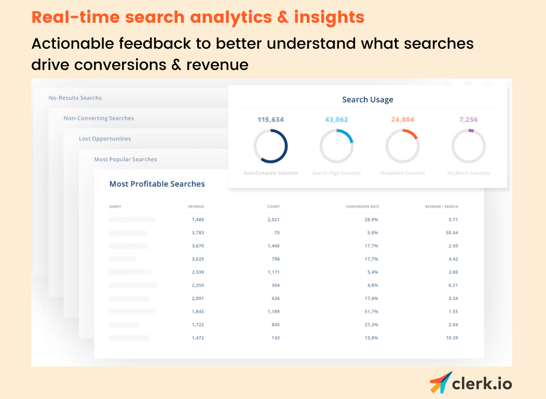 Being the world's #1 rated e-commerce personalization platform, Clerk.io helps 3,000+ e-commerce stores worldwide optimize their search experiences and grow sales. Get started by talking to one of our specialists and getting a free trial today: