There're two types of visitors in your webshop: the browser and the searcher. Comparatively, searchers are more likely to convert than browsers, as people who use the site search already have a specific product in mind to buy. In fact, site searchers are generally 2-3x more likely to convert 🛍.
Don't underestimate the importance of having a well-functioning and optimized internal site search on your e-commerce website. Because it's a deciding factor between a happy returning customer and a frustrated customer that will never come back!
In this post, we will uncover 5 advanced ways to optimize your webshop's internal site search 🤩
Sounds interesting? Let's dive right in!
1. Understand customers better with NPL & faceted search
Natural language processing (NPL) stands to be one of the most critical evolutions in search engine. This evolution is derived from searchers' changing behaviors: Today, more and more people conduct specific searches using long-tail keywords. It's critical to note that very specific searches (with long-tail keywords) are far more likely to convert into sales than general generic searches, since customers who use highly specific search phrases tend to look for an exact product they're going to buy.
Without integrating NPL and faceted search functionalities into the internal site search, many e-commerce sites return irrelevant or even zero results, failing to convert these specific searches into actual sales 😢!
But don't worry – Clerk can help you out! Supporting NPL, Clerk's faceted search can understand each customer's search intent and context just like a real salesman, and it's achieved by automatically recognizing special characters, attributes, measurements, modifiers, categories, and much more: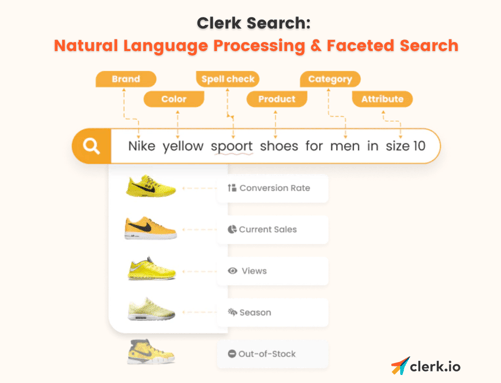 🗞 If you want to know about how Vitarock uses Clerk Search to significantly improve conversions and reduce bounce rates, check out their success story right here.
2. Personalize search experience with AI-powered
live
search
Consumers today want and expect personalization throughout their entire shopping journey and at every touchpoint💡. As for frequent shoppers, 80% of them only shop with brands that personalize their experience.
Working differently from other search engines, Clerk's Live-Search is smarter, as it is hyper-personalized. So, for example, a customer has previously purchased products from Nike in your webshop, and now they type in "sports T-shirt" in the search bar. Instead of showing random T-shirts, Clerk will deliver personalized results from Nike, the same brand they've already shown buying interests.
Powered by cutting-edge AI technologies, Clerk's intelligent search engine makes it possible to personalize your customer's search experience and always show the most relevant products they're truly interested in purchasing.
3. Save missed revenues with typo tolerance
Did you know that approximately 25% of all site search queries on e-commerce websites are misspelled?
Misspelling is a much bigger problem than what most e-commerce companies anticipate 🚨. Just think about it: You're losing sales, and it is not because of your own mistake! How frustrating is it 😩
With Clerk, it will no longer be a problem. Clerk Search's "Typo Tolerance" feature enables you to save misspelled searches and accordingly save those revenues 💰. With Clerk, you can always deliver the correct search result every time, even when customers misspell or create typos. Here's an example of how Clerk Search still presents the right results when a customer misspells "truffle":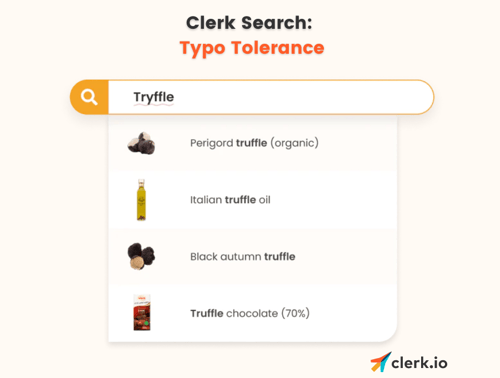 👉 Learn more about Clerk Search's "Typo Tolerance" functionality right here.
4. Speed up & guide customers' product discovery with instant search
Speed is a significant factor when it comes to a seamless shopping experience. Customers have no patience to wait, so Clerk can help you instantly present customers with perfect results after they type in only two or three keystrokes in the search bar: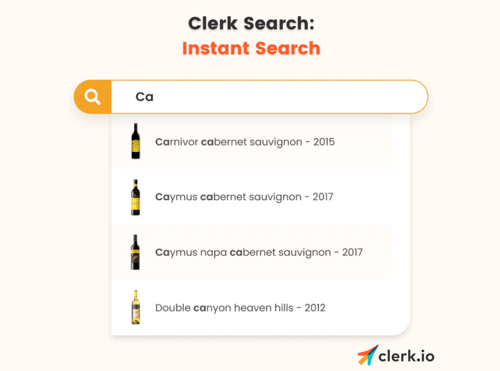 In doing so, you can ensure a seamless browsing experience that guides your customers to relevant products with no waiting period 😎
📚 Read more on how eFarma guides customers' search discovery and boosts conversions by optimizing its internal site search with Clerk.
5. Use
content recommendations
to assist customers' product research
Recent research demonstrates that nearly 90% of customers do research before making a purchase. Including content in your search results provides customers with the opportunity to do their research (comparing products, features, prices, etc.) while remaining on your site. However, if you don't provide customers with a natural next step once they have explored your content, you risk losing them 😔
As the example below presents, Clerk's "Content Search" feature allows you to display relevant blog posts and articles in search results for your customers wanting to do a little extra reading before clicking 'add to basket' 🛒: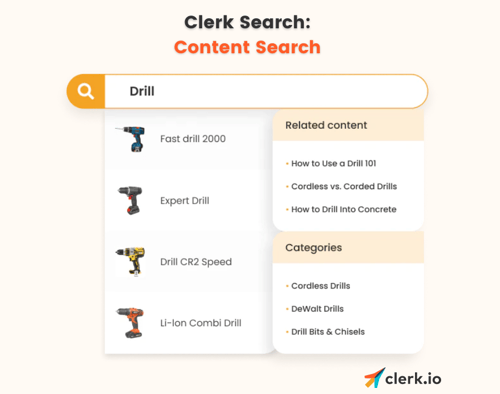 Combining these five Clerk Search functionalities can help you optimize the site search and ultimately provide customers with a more seamless shopping experience on your website. Want to optimize the internal site search on your e-commerce site? Get started by talking to one of our specialists and getting a free trial today 👨‍💻👩‍💻: