Recently, software comparison site, G2, released the new Spring 2021 Reports. We are proud to announce that Clerk has been ranked #1 in e-merchandising, as well as a momentum leader in e-commerce personalization and enterprise search software based on reviews by our own users. As the world's leading business software review platform, G2 leverages over 1,000,000 user reviews to help people discover the right solutions to solve real-world business problems.
Clerk ranks #1 in E-Merchandising 🥇
E-merchandising, or e-commerce merchandising, is the process of choosing the right product or service in the right placement with the right content in a way to drive more sales💰. It's essentially translating an in-store shopping experience online by strategically displaying certain products on a website to best promote them to buyers.
G2 calculates the Relationship Index using its proprietary algorithm that factors in real-user satisfaction ratings for a number of relationship-related review questions such as quality of support, ease of doing business, likelihood to recommend and more. As shown in the following chart, Clerk achieved the No.1 ranking in G2's Spring 2021 Relationship Index for E-Merchandising 🏆, receiving the highest score of 8.84.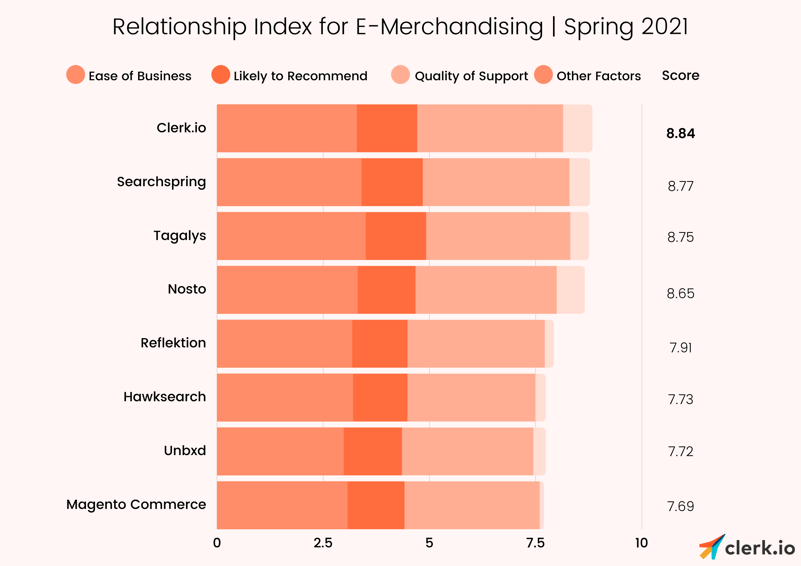 Clerk was also named a Leader in G2's Spring 2021 Momentum Grid Report for E-Merchandising, which highlights trending software products based on user satisfaction and vendor market presence growth. More specifically, G2 calculates and ranks vendors using its proprietary Satisfaction algorithm (based on review data) and Momentum algorithm (based on employee growth, review growth, social growth, and web growth).

Clerk also was ranked #1 in Fastest Implementation for E-merchandising, with most users being able to implement Clerk and go live in under 1 month. As displayed above, our quick and easy implementation process ensured a smooth integration experience for Tanya's business 🙌. Just like Tanya, Clerk can help you implement merchandising on your site to improve customer engagement, reduce shopping cart abandonment and increase conversions 🛒!
Momentum Leader in E-commerce Personalization 🏅
E-commerce personalization software creates experiences custom tailored to customers who shop online using e-commerce tools.
G2's Grid Reports represent the voices of real software users, rather than the subjective opinion of one analyst. In line with this thinking, G2 rates products from the E-Commerce Personalization category algorithmically based on data sourced from product reviews shared by G2 users and data aggregated from online sources and social networks.
With high customer satisfaction scores, Clerk has been identified as a High Performer and a Momentum Leader in G2's Spring 2021 Grid Report for E-commerce Personalization 🥳.

As the all-in-one e-commerce personalization platform, Clerk's advanced AI technology can capture customer behavior in real time and provide personalized content to help customers discover and purchase relevant products or services. As Nicolaj puts it, Clerk makes it easy to achieve business growth through effectively improving the CX and driving more sales 🛍.
Momentum Leader in Enterprise Search Software 🏅
Clerk also offers enterprise search software service that facilitates the organized retrieval of stored data (whether that be data internal to an organization or externally facing sources like applications and websites). In general, enterprise search software "Google-izes" data meaning it circumvents the time and effort that goes into tagging, filing, sharing, and retrieving information regardless of size and media type, creating a secure, powerful, and easy-to-use search function.
The Spring 2021 Momentum Grid Report for Enterprise Search Software is based on scores calculated using the G2 Satisfaction algorithm v3.0 and the G2 Momentum algorithm v1.0 from reviews collected through March 02, 2021. As a result, Clerk is recognized as a Momentum Leader in Enterprise Search Software, outranking a long list of impressive competitors (e.g., IBM Watson Discovery, Google Cloud Search, and Microsoft Bing Image Search API).

Clerk's enterprise search software offers tons of benefits since the retrieval of data from a mix of databases and shared sources is key to accomplishing various tasks within a business setting.
All in all, we're super proud that G2 continuously recognizes Clerk's achievements and ranks us as the industry leader in e-commerce personalization platforms and grateful for our amazing customers who take the time to share their experiences using Clerk with the world! Being #1 rated e-commerce personalization platform, Clerk.io powers 2,500 + webshops worldwide to automatically grow sales and drive revenue. Get started with effective business growth in 2021 by talking to one of our specialists today!