Email marketing
Now you have learnt a lot about how Amazon increases traffic and conversion rates.
But is this everything they are good at?
Not at all. I won't write about every single thing they are doing well, so this information is focused on their way of doing e-commerce. Email marketing is something most e-commerce businesses are doing or should be doing. It's the most cost-effective way to market products, promotions and new releases.
Personalization
What is the best way to assure nobody will open your email? Make it look like they are not the only one who has received it.
Whenever Amazon sends you an email, they will start either the text or the subject field with your name.

In practice, this is pretty easy. If you have the names of your newsletters recipients, most systems allow you to add the names.
Template consistency
To most people, and especially those of us who have turned 30, the consistency of the email templates is extremely important.
Whenever Amazon sends out a newsletter with products (mostly algorithm based, which is part of their product recommendation system), they set up the templates to look like search results.
This makes the customer feel like they are on Amazon's website. Most importantly, the customers do not get confused. They are familiar with the design of the content, which means that they know where to click and do not need to waste 10 minutes to figure out; what they are looking at, what to do next and who might have sent it.
Call to action
For many of us, call-to-action is an overused word that comes up every time someone mentions conversion optimized design, but this one is worth mentioning. The reason why this one is particularly great is that I have never seen a campaign that included a reviews section in the email.

If you received an email that contained this, would you not be much more inclined to do what they are asking for? Come on, it does not get any easier than doing this directly from an email you just received.
Amazon does this to know how the third party sellers on their site performed. They let other companies sell to their customers, but they will not allow bad sellers to bother their customers.
Options about what emails you want to receive
How do you get your email list to interact - and potentially buy?
Only send them the emails that are the most relevant to them. Simple as that.
Deliver content that the recipient likes and they will probably buy something - and stay on your email list.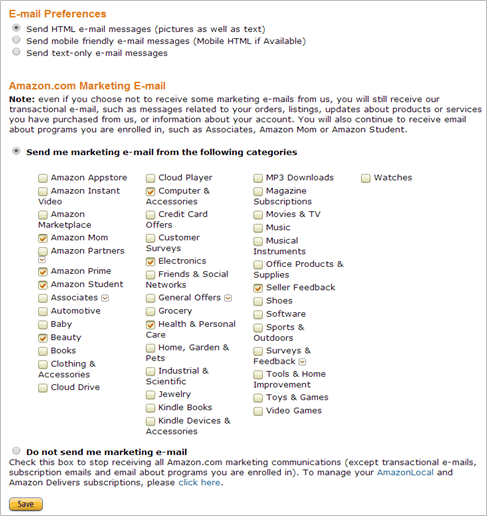 Don't argue with your customers
If your customer has received a broken item or an item that they claim to be faulty, don't argue with them. Just let them return the item and send them a new one.
Surprise, surprise! This is something Amazon is also very good at.



What have you learned?
Like it or not, Amazon is the best at what it does and will continue to grow. I hope this article helped you learn more about how Amazon has become the most successful e-commerce business in the world, but most importantly, how to apply this knowledge to your business to become a strong competitor.
I guarantee that if you implement all of the above steps (if you have not done so already), you will experience a massive growth within the next 12 months.