If you are selling products through a web-based platform, be that WooCommerce, Shopify, Magento, or any other e-commerce platform, this article is for you.
Amazon has come a long way from its humble beginnings as a book wholesaler since 1997. Back then, their business model was similar to that of most companies selling their products online. Today, they have become leaders in every field they venture into. Gradually, Amazon has become the largest eCommerce retailer by online revenue in the world. As Statista's chart presents, e-commerce net sales of Amazon are projected to reach 127,024 million USD this year: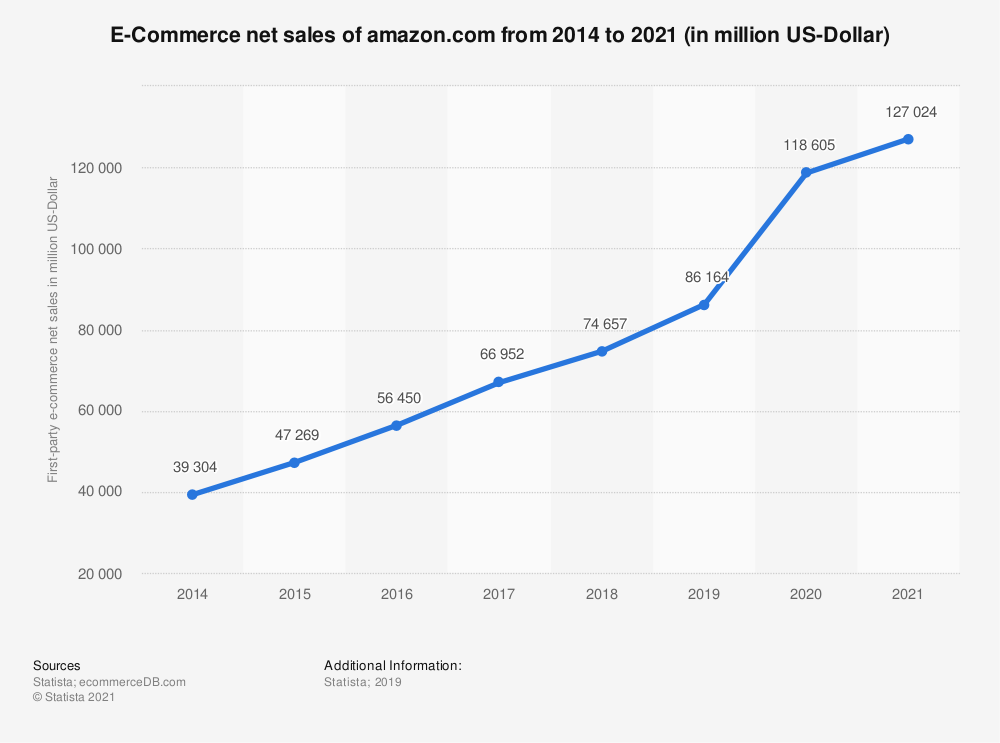 Together with its large marketplace, Amazon dominates the online retail space🤴. It's no wonder then that Amazon is a strong competitor for most e-commerce businesses.
Learn from Amazo
n… t
hrough this blog series
There are a lot of things that go into running a successful online business, and there are a lot of things that you can do to create an "Amazon competitive universe"💪. But what are the important parameters you should be mindful of, and which channels should you utilize to compete with Amazon?
To understand: Firstly, what Amazon is good at; secondly, how they run their platform; and thirdly, which parameters they used in the past to become one of the highest valued companies in the world.
To help you learn from Amazon, the global e-commerce empire, we've rounded up an Amazon series with three blog posts 📖! In addition to this article, you can learn more on how Amazon utilizes product recommendations and marketing emails to drive sales and revenue
First things first, let's take a look back at...
How Amazon started
When Jeff Bezos decided to found Amazon, books were the second biggest product category in the world. The book category contained the most varied selection of items, and at the time, that made books "the most attractive product category to sell online," explained Jeff Bezos 📚.