Conversion optimization
This is the part that I find the most interesting about Amazon's growth and what most may find shocking. Something that a lot of people might find so simple has led to a growth this big is best described as crazy.
Jeff Bezos woke up one morning in 2015, drank his coffee and thought about how he could earn even more money. The day before, he'd just been to a meeting with the shareholders of Wholefoods and was considering buying them but wasn't satisfied with that. He wanted to make Amazon even more profitable.
Amazon.com has always been an e-commerce site and that has been the main focus. He spent a lot of money on Google and put in a lot of work to gain and maintain a high ranking.
How could he satisfy his shareholders without increasing his marketing budget?
Ah...
"How about I try to do something that makes my customers buy even more? I pay for them to visit Amazon anyway, so this might make it a bit more cost effective".
This is how the new era of Amazon began. He asked his developers to start working on a project that we now know as product recommendations. But what is product recommendations and how does Amazon use them?
Amazon has been using product recommendations since 2015. The recommendations were incorporated in every aspect of the Amazon platform. So much so, that the only place they cannot be found is the search results and in the stores (where sellers with a trademarked brand get an entire page for their company to sell products).
Amazon has gone from no product recommendations to never not showing product recommendations.
Here are all the ways in which Amazon uses product recommendations.
Recommended for you, xxx.

When you visit Amazon and log into your account, you can go to the header banner (beneath the search bar) and find "xxxx-s Amazon". When you click on this, you will be able to see a page as shown on the image below.

Amazon shows you products that they think you will be most tempted to buy. That is also where they "get to know you". They collect data from the clicks you do on this page, to either confirm or deny whether they have "guessed" correctly in the first place. Click around and shop on Amazon for a year. This is the part of the site where you should not go onto...you might not be able to afford it!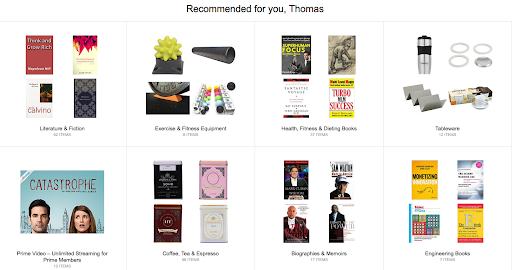 Frequently bought together
This column can be found on almost every product page. Amazon collects enough data to tell you which products should be bought together. As you might have noticed, this dynamic field has the user and accessibility in mind. It is so easy to just click on "add both to cart". Besides this, the recommendations are good! It seems quite appropriate to buy a "rumble roller" together with a "spiky massage ball".


This is how Amazon tries to get their customers to increase the average order value.

A list of your recently viewed items and featured recommendations

This is based on the products that you have recently looked at and products that remind you of them. As I do not have access to their algorithms, I can't do anything other than take a guess, but these products only have this category in common. An Amazon category path can be 6 steps deep = xxx → cccc → yyyy → bbbb → aaaa → Massage balls (/equipments).

This means that Amazon only shows you products that are most likely to be the most relevant to you.

What is the most effective way to make customers find the products that they have already looked at and might be interested in buying?
Let them, for God's sake, look at their browsing history! It's almost impossible to find something that you have viewed on Chrome or Safari because the browsing history is mostly page titles and urls with no pictures.

Items related to those you have already looked at
When you search for a product and don't buy it or simply did not find the right one, Amazon will display similar items.

Hey shopper! There is a newer version of this item for sale now. Why bother buying an older version of a product?

Especially in categories like electronics, almost everyone wants to buy the newest item, not the previous version. Who would want to have a phone that only has one camera when all the newly released phones have two?

The data is also clear when you look up monthly search volumes for a new item and then for an item that has already been for sale for more than a year. Usually, you will be able to find that search volumes for newly released products are 2-3 x bigger than for products that are no longer the most recent. This only strengthens Amazon's choice by letting users know before they buy, whether this is the newest item or not.

Items based on products that you have already bought

You just bought a new kindle? Great. Now you probably need a cover so it doesn't break in case you drop it.



Best selling products in X-category

Social proof works. No matter what you think. There are two very important lessons from this because there are two things that make these recommendations nothing less than great.
One of them is social proof and the other one is tendency

Let's say you are looking at a webshop and it's selling an item that has been going off the shelves like crazy within the last 24 hours and sales are 100x higher than the rest of the products in the same category, you will probably be more inclined to buy this product vs. the product that has only been sold once within the last 24 hours.

The lesson mentioned above is probably among the most significant that you will learn about Amazon. This made Amazon's revenue grow by 29% within Q4 of 2015 compared to Q4 in 2017. A growth of that size for Amazon is so much money that most of us cannot even imagine it. If you are trying to picture it, the exact amount is $2.93 billion.