There are 7.8 billion people on this planet and 2.05 billion of those shop online and the numbers are growing. E-commerce sales are 15.5% of retail right now and it is expected that e-commerce sales will reach 17.5% of retail sales by 2021. Shopping online is becoming a more integral part of consumers.
Mind-blowing, right? Who would have thought that shopping online could become so important? It is even said that by 2040, 95% of shopping will happen online. So, if you don't have an online shop yet then those numbers should have convinced you to open one now.
Content
Top 10 largest E-commerce Markets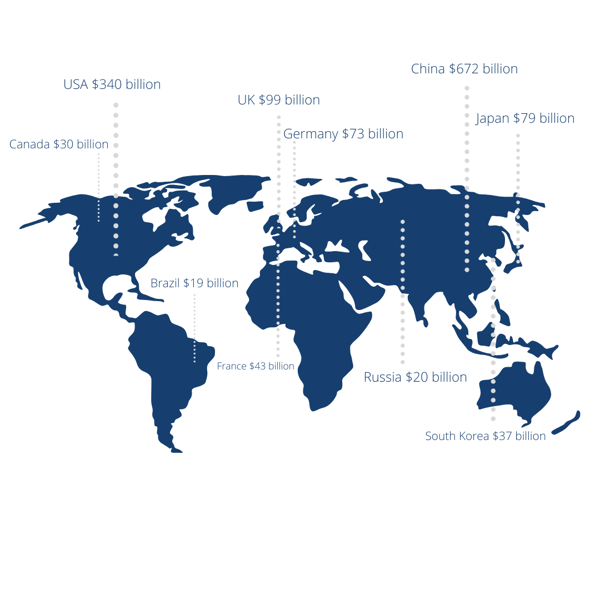 Demographics Statistics
Different generations shop differently. Generation X and Millennials spend the most time shopping online. Therefore, it is always important to keep different demographics in mind.

Social Media Statistics
Since Millennials and Generation Z are the ones that spend most of their time shopping online you cannot forget that social media plays an important role in their life. In fact, social media is the 1st and 2nd method of brand communication and connection to millennials and Gen Z.
User Experience Statistics
User experience is one of the most important aspects a consumer looks back at when deciding whether they want to come back to you or rather go to a competitor. Factors that belong to a great user experience are website optimization, load time, omnichannel capabilities and customer service.
Mobile E-commerce Statistics
Mobile commerce is becoming more important, which therefore makes website optimisation beneficial to you. M-commerce gives users the opportunity to purchase something online without using a desktop computer. It is an evolution of e-commerce because you can simply purchase something everywhere and anywhere with your mobile.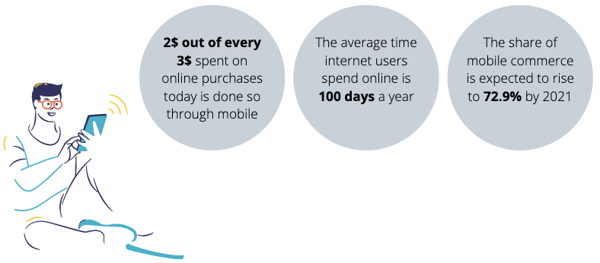 Review Statistics
Uploading the feedback from customers on your website, helps prospective customers decide whether they want to purchase something or not. Therefore, user social proof is beneficial to your company.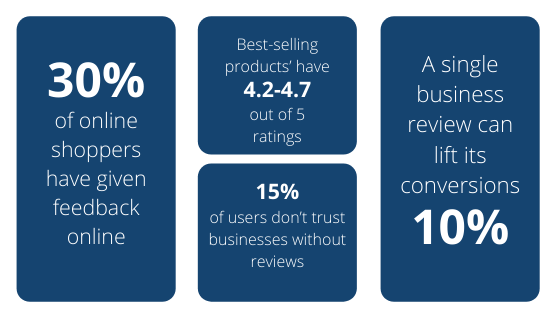 Cart Abandonment Statistics
Reasons for abandoning the cart are unexpected extra costs, such as shipping fees, creating an account before purchasing or the checkout process has been too complicated.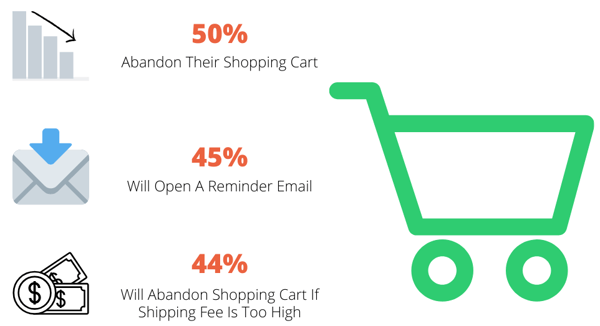 Voice Search Statistics
Using voice search is just really convenient if you only have to talk to a computer instead of going online and actually search for something. It saves time and you probably won't think twice about your purchase. Besides, personalisation is growing in importance with mobile voice-related searches as well, as the results are more likely to be location-based.

Email Marketing Statistics
You are probably already using email marketing and sending out personalized emails to every customer, gathering more information and email addresses from new customers. For some, email marketing is quite effective however, you need to make sure that you don't overload your customers with too many emails.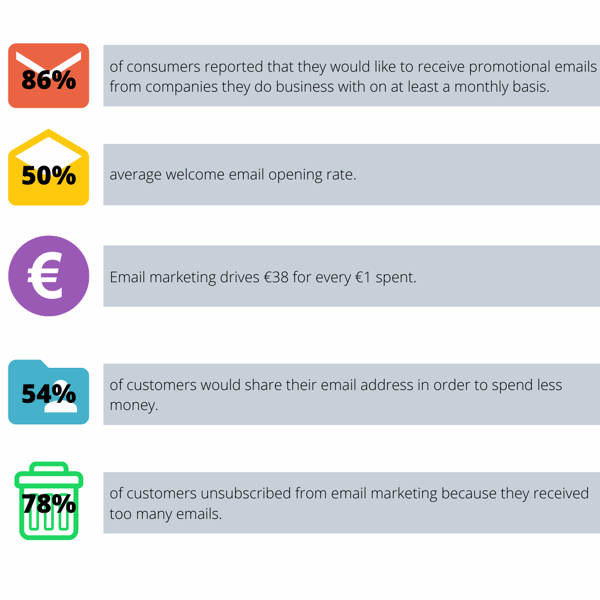 Personalization Statistics
Personalization is more important than ever because it offers intimacy and is a key element in today's advertising. It gives you the ability to reach specific audiences and it is the foundation of modern marketing. You should use personalization to your advantage and market individually to your customers.
Search Engine Optimisation Statistics



Let's be honest, everyone wants to get the most traffic to their own website and tries everything to accomplish that. But not everyone can afford paid advertisements and therefore, only organic traffic can be used. You want to and need to attract customers that are genuinely interested in your products.

If you have any further questions or would like to add more statistics, write us at marketing(at)clerk.io. We are looking forward to hearing from you. :-)