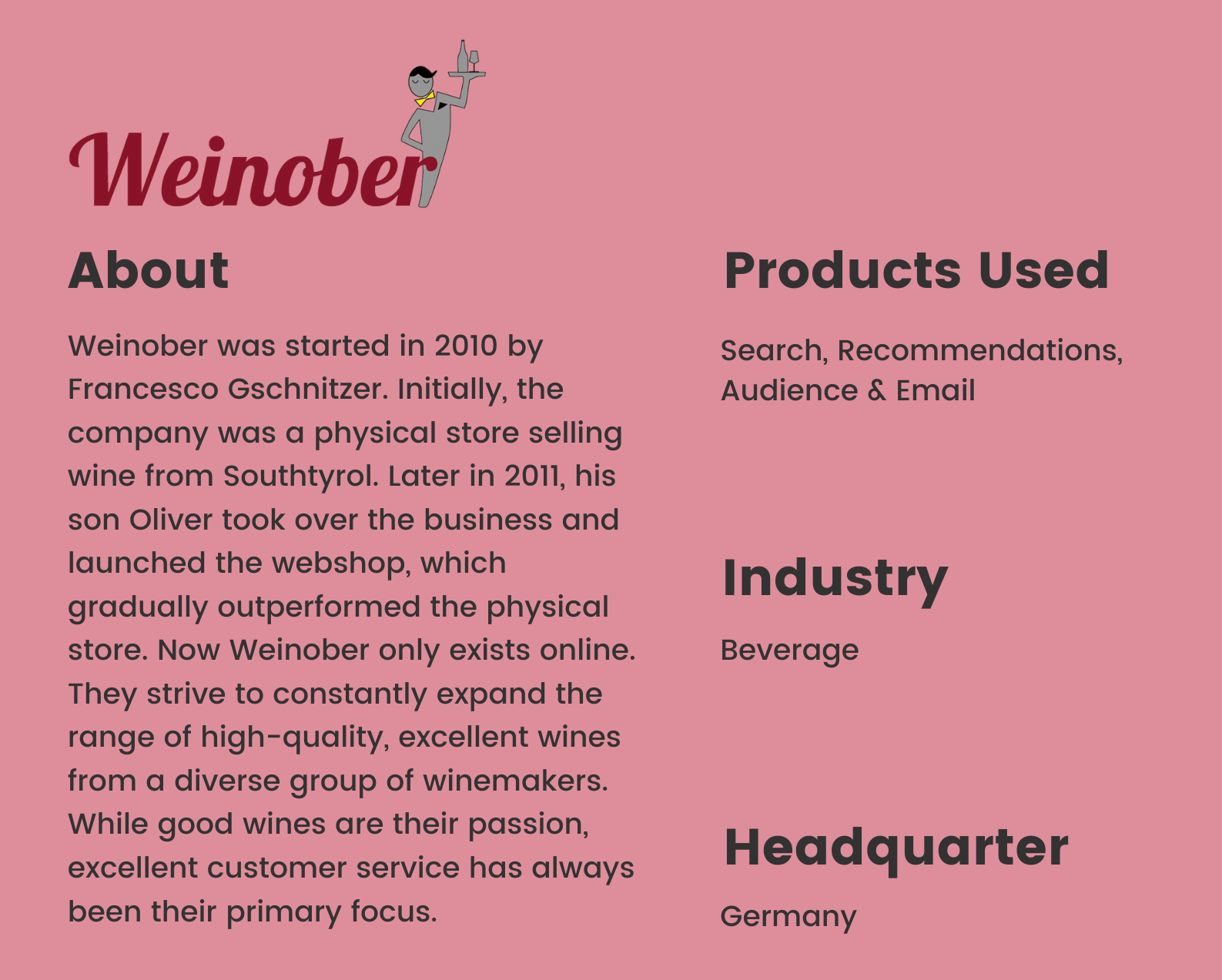 The Facts
52% of orders impacted by Clerk
27% increase in basket size
40.3% of customers buy products via site search powered by Clerk
29.3% of searches are misspelled by customers
1.45 more products sold after customers interact with Clerk's recommendations
25% increase in active customers over the last 6 months
10.56x increase in conversion rates



Challenges
Weinober has experienced massive growth in the last 10 years: Their business had a 46x revenue growth. While feeling proud and excited about the rapid business growth, Oliver, the owner of Weinober, also felt challenged and pressured by deciding where to allocate time between maintaining the website, keeping new offers up to date, marketing, and many more. As it became more and more difficult to invest time in everything, Oliver began looking into options to automize some tasks.
Another challenge Weinober was previously faced with was to create a dynamic website. Specifically, the company wanted to prevent its e-commerce website from being static and ensure that new offers and deals are constantly added. Because when customers see a static website with never-changing content, they often fear that the site is not working anymore.
What is even more worrying was that Shopware's native site search function did not work efficiently. For instance, site searchers sometimes did not find relevant results using it, and then just like that, Weinober lost the sale.
Why Clerk?
With all these issues taken into account, Weinober researched Clerk and competitors for a solution. The company ended up choosing Clerk for a couple of reasons:
As an all-in-one personalization platform, Clerk can offer all they wanted.

Ease of integration

.

Excellent customer support

.

Fair price

.