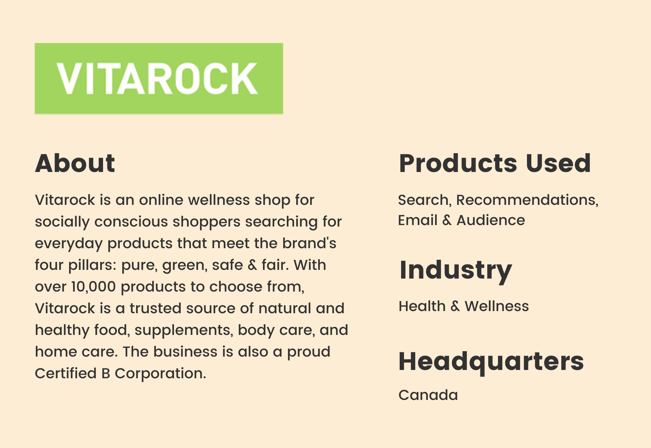 The facts
68% of orders impacted by Clerk

32% growth in average basket size

19% increase in average order value (AOV)

49% of customers buy products via Clerk Search

28.3% of customers buy products via Clerk Recommendations

803% increase in conversion rate
Challenges
Vitarock has a vast catalog with over 10,000 products for customers to choose from and serves both the Canadian and US markets. As a result, the brand has a large inventory of products and runs two e-commerce stores, one for each market. Before switching to Clerk, the brand was struggling to provide visitors with easy navigation and relevant product discovery experiences.
More specifically, Vitarock's site search engine was not providing targeted enough results, which led to a subpar customer experience. In addition to improving site search, Vitarock wanted to provide customers with more personalized product recommendations as they explored the site. Altogether, these challenges ultimately led to Vitarock experiencing lower conversion rates and higher bounce rates.
But providing a more personalized shopping experience was not just something Vitarock wanted to accomplish on its site. The brand also wanted to improve its email marketing by sending more relevant content to each customer based on their previous behavior in an effort to offer a more omnichannel experience and to reduce unsubscribe rates.
Results