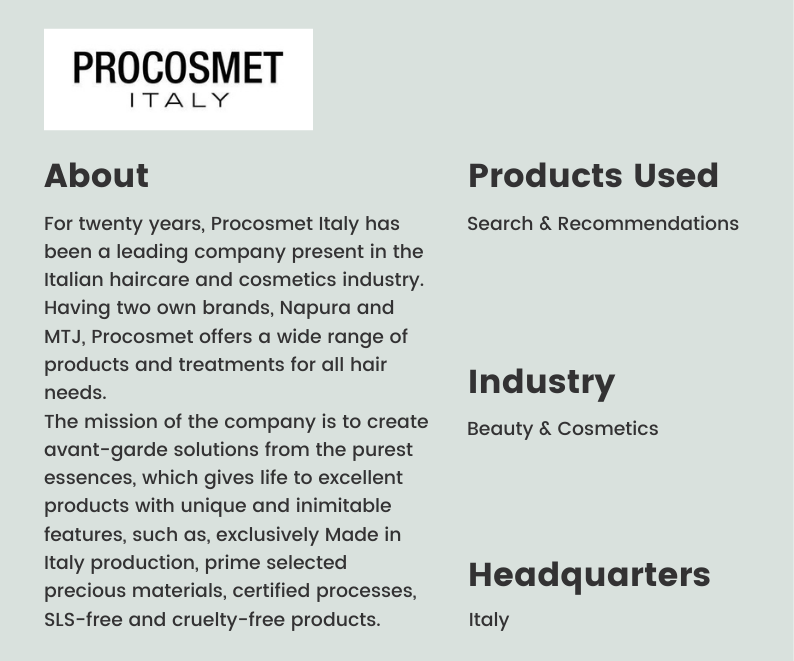 Key Stats
74% of orders contain at least one product found through Clerk

51% of products sold via Clerk

50% of total revenues came from Clerk's search & recommendation contents

39.1% of customers buy products via site search powered by Clerk

9.4x higher likelihood of customers converting after using Clerk search

27.5% of customers buy products via product recommendations powered by Clerk

5x higher likelihood of customers converting after clicking on Clerk recommendations

595% increase in conversion rate

Challenges
Being a prosperous business for two decades, Procosmet strives to constantly improve its products and customer experiences. Specifically, the brand was looking for technical solutions that could improve the user experience (UX) on its e-commerce website. Since Procosmet owns two different haircare brands and offers an extensive selection of products (more than 600 items), it was critical for the brand to facilitate its customers with navigation around its website and personalize each customer's shopping experience. In other words, Procosmet wished to make its e-commerce website "smarter" and "more user-friendly." 😉
In particular, Procosmet wished to improve internal site search functions on its e-commerce website, aiming to make it easier for shoppers to find the right products in an extensive product catalog. Meanwhile, the brand discovered that many customers, unfortunately, misspelled their search queries. If the search engine failed to recognize the typo and show relevant search results, the brand would lose the sale just like that 😢
Results
Improving customer experience & conversions with intelligent search engine
After implementing Clerk Search, Procosmet instantly optimized its internal site search, making the search functions easier to use and more intuitive 😎.
Above all, the brand is now able to always show the right products even when its customers misspelled their search queries or created typos. In fact, up to 18.1% of searches are misspelled by its customers. Now with Clerk, Procosmet no longer has to worry about potentially losing tons of sales in the case of misspelled search queries.
As the example below presents, when a customer misspells "shampoo" using the site search, Procosmet can still deliver the correct, relevant search results with Clerk's intelligent autocorrect.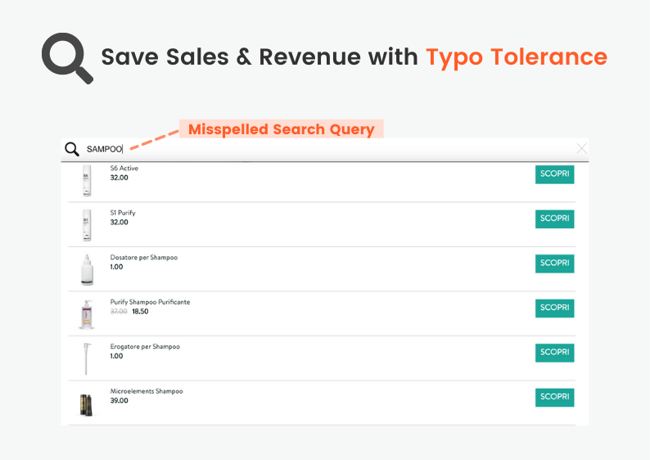 The benefits of optimizing the internal site search have been statistically proven: Now, 39.1% of Procosmet's customers buy products online via site search powered by Clerk, and the likelihood of customers converting increases 9.4x once they interact with Clerk Search.
Boosting online sales with dynamic, personalized product recommendations
A truly personalized on-site shopping experience cannot be completed without personalized product recommendations dynamically placed across the e-commerce website.🏆 Because Procosmet has a vast catalog, it was not always easy for customers to find the right products. Having to search for them every time could be time-consuming, and it could also discourage the customer from continuing their shopping journey and placing a final purchase.
Now with Clerk Recommendations, Procosmet can help customers with their product discovery by suggesting alternative options and complementary products. As a result, customers today can always find the most relevant product recommendations on each product page. Doing so allows the brand to not miss any sales opportunities. 😉 Statistically speaking, placing Clerk's personalized product recommendation banners across Procosmet's website resulted in 27.5% of its customers purchasing products via recommendations. Furthermore, the probability of customers converting increases 5x once they interact with Clerk's recommendations.
Here's an example of how Procosmet creates cross-selling opportunities by using Clerk to automatically show customers the "You might also be interested in" type of product recommendations on the shopping cart page: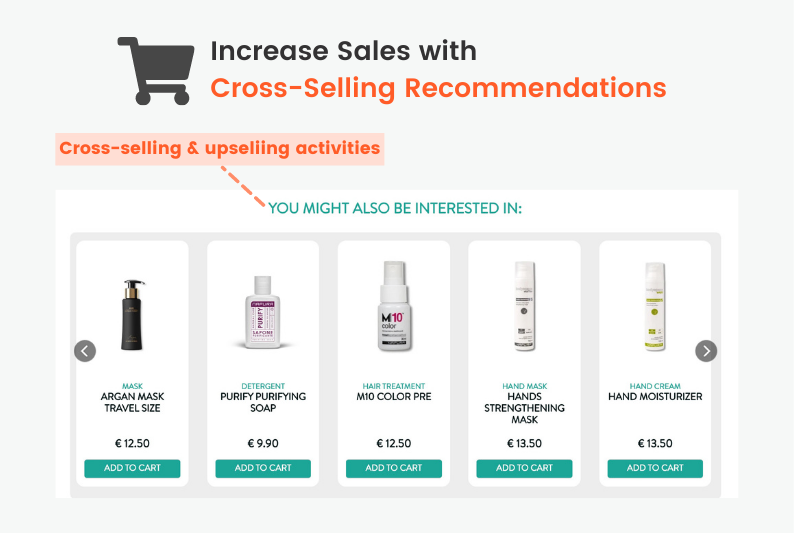 Doing so makes it possible for the brand to increase the basket size and average order value before the shopper jumps into the final checkout 🛍️.