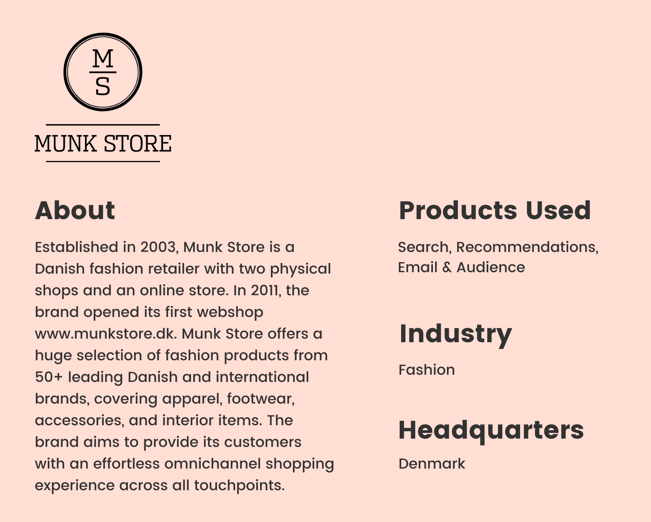 Key stats
71% of orders impacted by Clerk

11% growth in average basket size

14.4% of customers buy products via site search powered by Clerk

4.7x higher probability that customers convert after using site search

58.8% of customers buy products via recommendations powered by Clerk

255% increase in conversion rate

243% growth in active customer segment after 1 month of using Clerk Audience for campaigns

Challenges
As a leading fashion retailer in Denmark, Munk Store offers a vast selection of products for men, women, and children, ranging from clothing, footwear, and accessories to interior items. Due to the brand's wide range of products, it was challenging to find a solution that could accurately categorize and filter all its products in search results and recommendations. Consequently, it became daunting for customers to navigate the site and discover the products they were looking for. This led to higher bounce rates and lower conversion rates.
At the same time, Munk Store was also finding it hard to deliver the same kind of personal shopping experience online as it did in its physical stores. Unlike having an actual shop assistant to help customers discover products that matched their taste, the brand felt it was letting customers down online. This became even more critical with the pandemic, which closed the brand's stores for many months, forcing many shoppers to turn to the internet.
With over 18 years of experience in the Danish fashion industry, Munk Store had built a strong customer base. However, given the increased competition throughout the fashion retailing industry and the rise in e-commerce, Munk Store decided it was time to invest in strengthening its online shopping experience. So, the brand began searching for a solution that could provide the same kind of welcoming, effortless product discovery that its stores offered and ultimately decided to implement all of Clerk's products including Search, Recommendations, Email, and Audience.
Results
Displaying cross-sell recommendations to increase AOV
Munk Store particularly enjoys using Clerk Recommendations because it allows the brand to provide customers with dynamic product recommendations based on 15 prebuilt logics, such as bestsellers, hot products, best cross-selling products, and more, both on-site and via email marketing. In addition, because Clerk's product recommendation tool can take into consideration many different attributes including gender, age, color, and size availability, Munk Store can always ensure it's showing shoppers hyper-relevant available products, despite its large selection.
In order to offer shoppers the most personalized experience possible, Munk Store utilizes Clerk's product recommendation banners on its front page, category pages, product pages, and shopping cart to encourage shoppers to continue exploring more items before completing their purchase.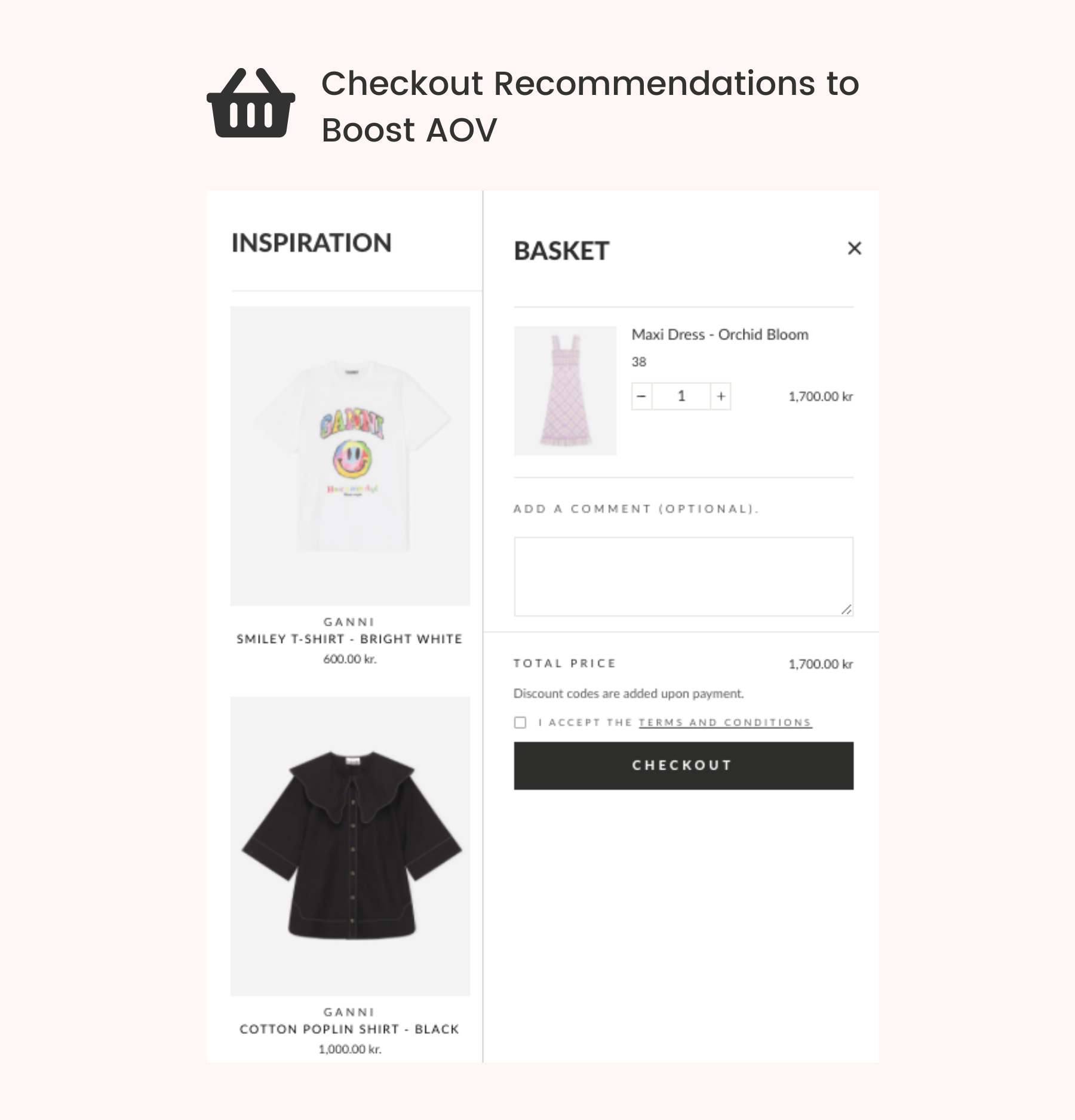 Munk Store's customers love Clerk's highly personalized recommendations since 58.9% of them buy products via recommendations. As a result, on average 600DKK on each order can be attributed to products customers discovered via recommendations powered by Clerk.
Here's how Munk Store promotes the "complete the look" type of product recommendations to customers who are interested in buying this Gestuz sweatshirt: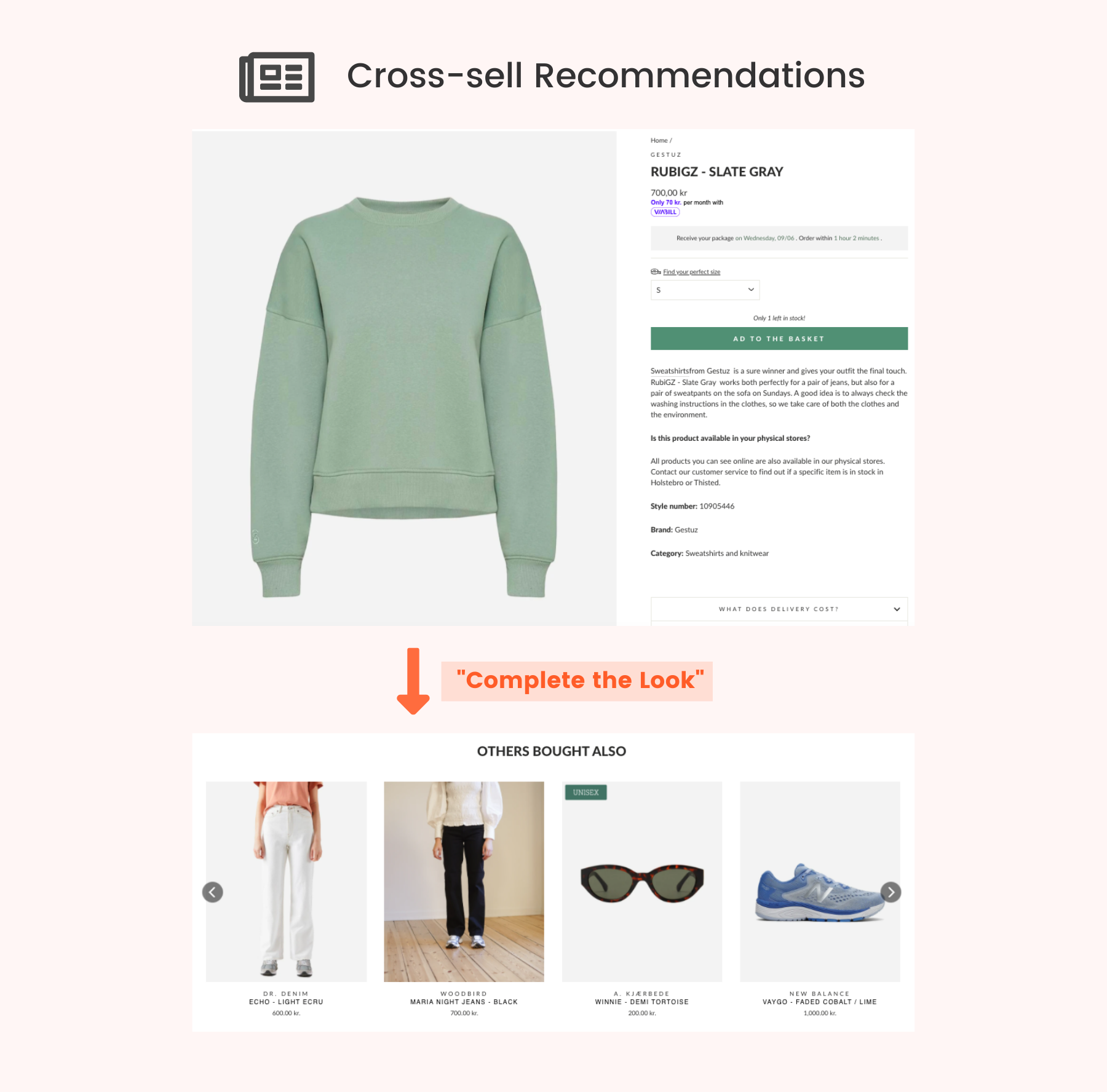 As Mathias points out, showing only hyper-relevant, personalized recommendations is crucial in creating a great customer experience (CX).