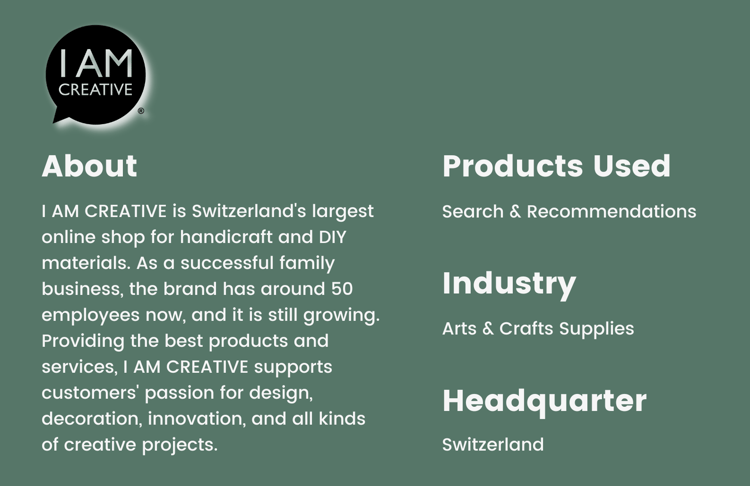 Key Stats
32% growth in average basket size

11% extra revenue added from products sold by Clerk

22% increase in average order value

42.4% of customers buy products via site search powered by Clerk

11.2x higher probability that customers convert after using site search

3.24 more products sold after customers interact with Clerk's recommendations

9.25x increase in conversion rates




Challenges
Having a focus on content marketing, I AM CREATIVE invests a lot of time and energy in running its blog and creating content. Like many e-tailors, the brand was eager to harness the potential of this content marketing effort. The I AM CREATIVE team considered manually updating the products mentioned in the blog content onto the webpage. However, it was a time-consuming task to select relevant products and constantly monitor their inventory. With Clerk's Content Recommendations tool today, this task is completed automatically by machine learning and AI technologies.
Another major challenge faced by I AM CREATIVE was managing and organizing 10,000+ products on their website. Although a massive catalog could offer customers a wide range of products to choose from, it was challenging for customers to navigate and find the item they were looking for. Therefore, the brand turned to Clerk for an efficient site search solution that can enable customers to find products with relevance and speed.
Results
Boost conversions & gain valuable insights with intelligent search
"Clerk Search has been the most beneficial tool in solving our challenges," says David Dick, the Marketing Leader at I AM CREATIVE.
I AM CREATIVE enhanced the search functionality on its e-commerce site using Clerk, which makes it easy for its customers to find what they are looking for. Their customers love using the search bar on their website because it is much faster and more intuitive than category navigation. Within a short space of time, the brand was able to see a positive impact Clerk made on its conversion rates: The likelihood of customers converting increased 11.2x after they used the site search powered by Clerk.
But the benefits don't end there. By delivering real-time search analytics, Clerk Search provides valuable insights for different departments at I AM CREATIVE. For instance, their marketing team harvests the power of search analytics, leveraging data on the Most Popular Searches to plan their next blog content: