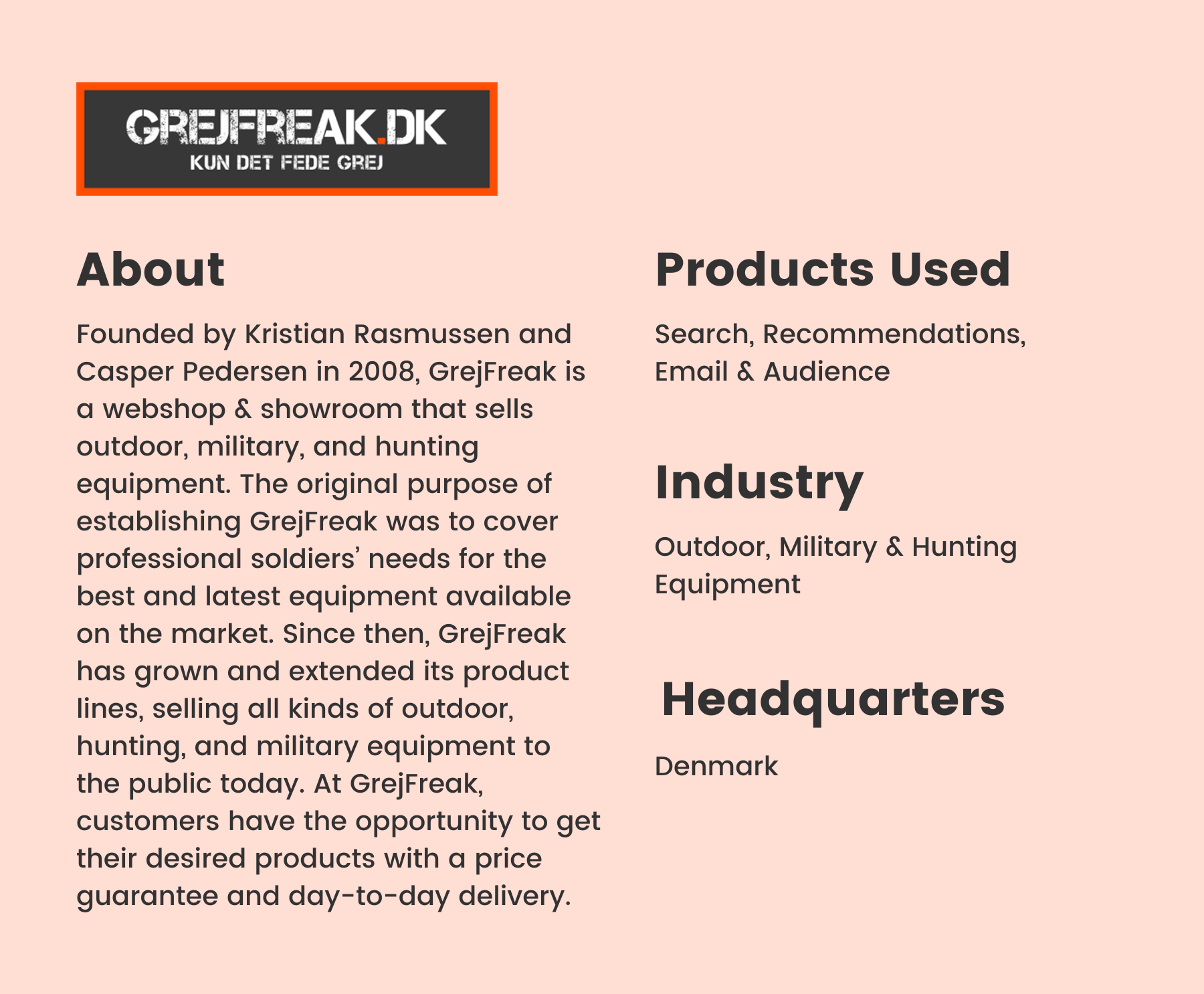 In 2011, GrejFreak launched its new webshop, aiming to extend the range of products and expand its customer base to the entire population in Denmark. As GrejFreak's business grew, they found that customers could easily get lost in a wide range of products. Thus, GrejFreak needed an e-commerce personalization tool to help its customers navigate in the webshop and provide them with a more effortless shopping experience.
Results: The Clerk Impact 🏆

Increase in Conversion Rate
GrejFreak decided to try out Clerk's whole product suite – Search, Recommendations, Email, and Audience – to get as much as possible out of the platform. Powered by Clerk's cutting-edge e-commerce personalization technology, GrejFreak quickly saw amazing results. Specifically, the brand could see that 51% of its orders were impacted by Clerk, meaning nearly half of GrejFreak's customers were converting after clicking on products displayed through Clerk's search results and product recommendations. The brand also saw its conversion rate increase by an astounding 207% 💸 simply after implementing Clerk.
GrejFreak's site search for search term 'travel':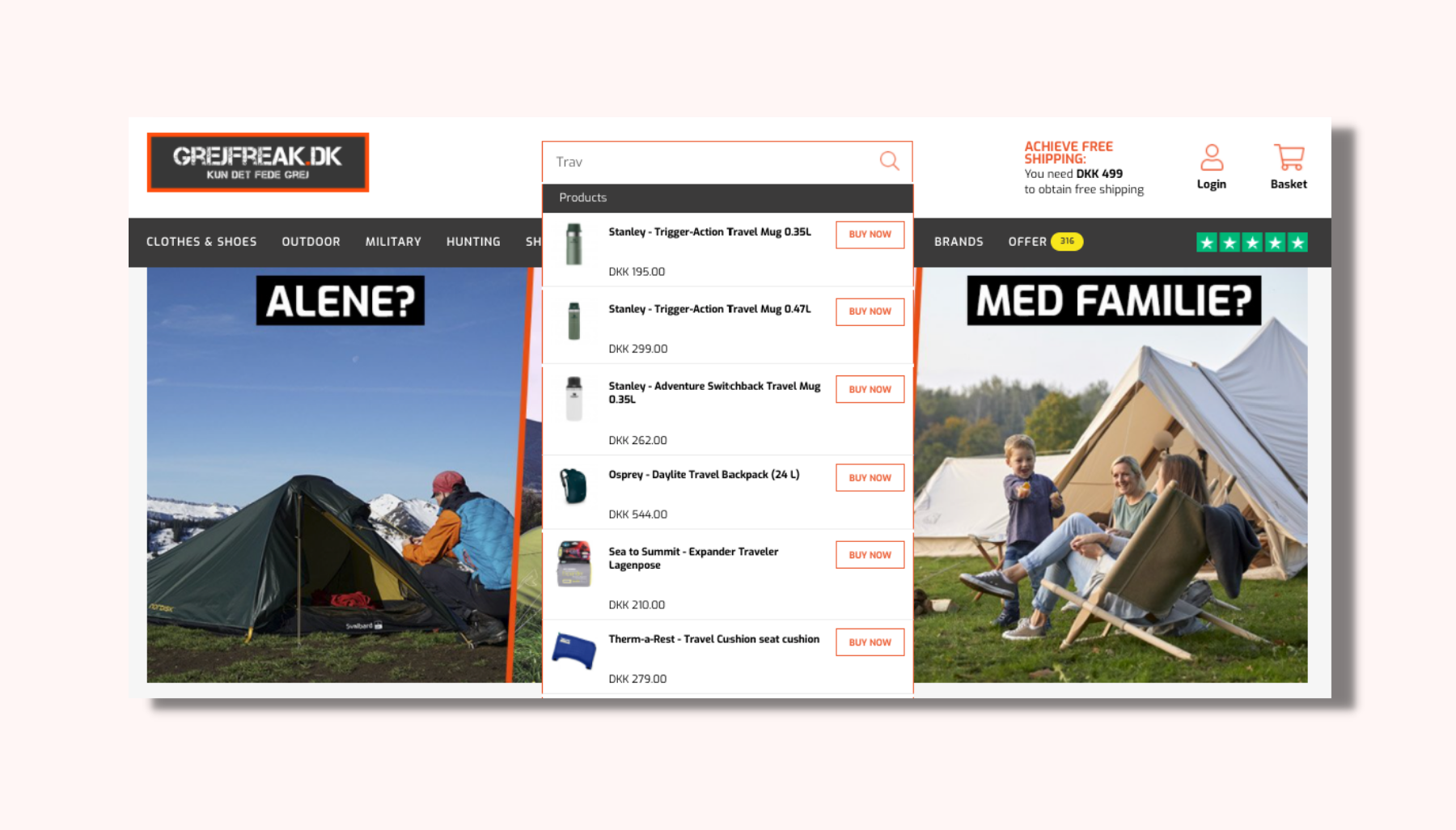 Bigger Basket Size
GrejFreak found Clerk's Email and Recommendations products particularly valuable in driving larger basket sizes. Clerk's email automation feature and on-site recommendations enable GrejFreak to present its customers with hyper-relevant products, launch AI-driven marketing campaigns and send segmented customers high-converting triggered emails.
GrejFreak primarily uses the product logic 'Best Alternative Products' for recommendation banners on its product pages alongside the 'Best Cross-Sell Products' logic. This not only helps customers find the product they are interested in without having to do more searching or return to category pages but also provides relevant items to be purchased alongside hiking boots, for example. In doing so, GrejFreak is able to sell additional products to the customer that they might have not known they needed, increasing customers' basket sizes by 25% on average 🛒.
GrejFreak's product page recommendation banners: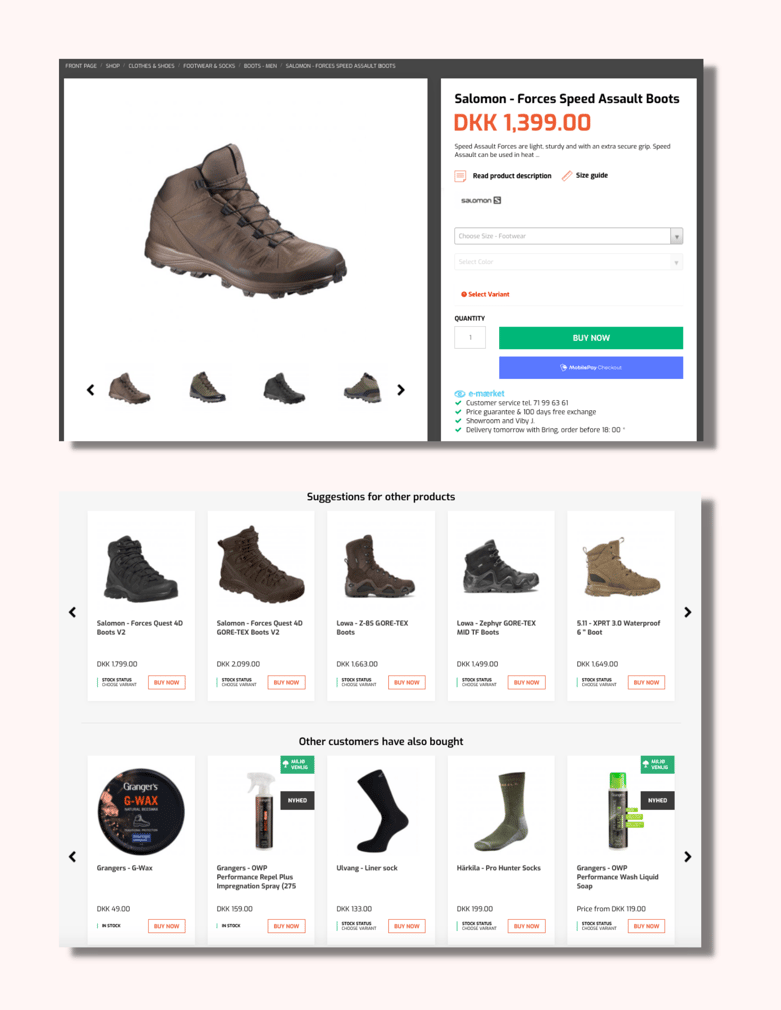 More revenue
With Clerk's Audience segmentation feature, GrejFreak can always see what customers are new, active, slipping away, and lost and target them accordingly with relevant email marketing and advertising campaigns. As a result, GrejFreak has been able to expand its customer base in the Danish market by 17% over the last 12 months (2020) and become a leader in the outdoor retail space. Furthermore, the brand can see that 43% of its monthly revenue is driven by Clerk's personalization features, further proving the software's value to the business.
Data-driven decision making
GrejFreak's rapid growth after the implementation of Clerk is evident, however, the brand has also realized another important benefit of using Clerk - analytics. Clerk's platform conducts a detailed real-time analysis of GrejFreak's e-commerce and email marketing performance, presenting a complete overview of revenue attribution on a product level via in-app dashboards. These dashboards provide GrejFreak with the insights it needs to constantly optimize its business tactics and make quick, data-driven decisions. Plus, the brand always has the ability to export Clerk data to work with it further if needed.
All in all, using Clerk has meant "more money in the bank" for GrejFreak according to the brand's very own Co-Founder.

To find out how Clerk can help your business achieve magical growth just like GrejFreak, talk to one of our experts today!