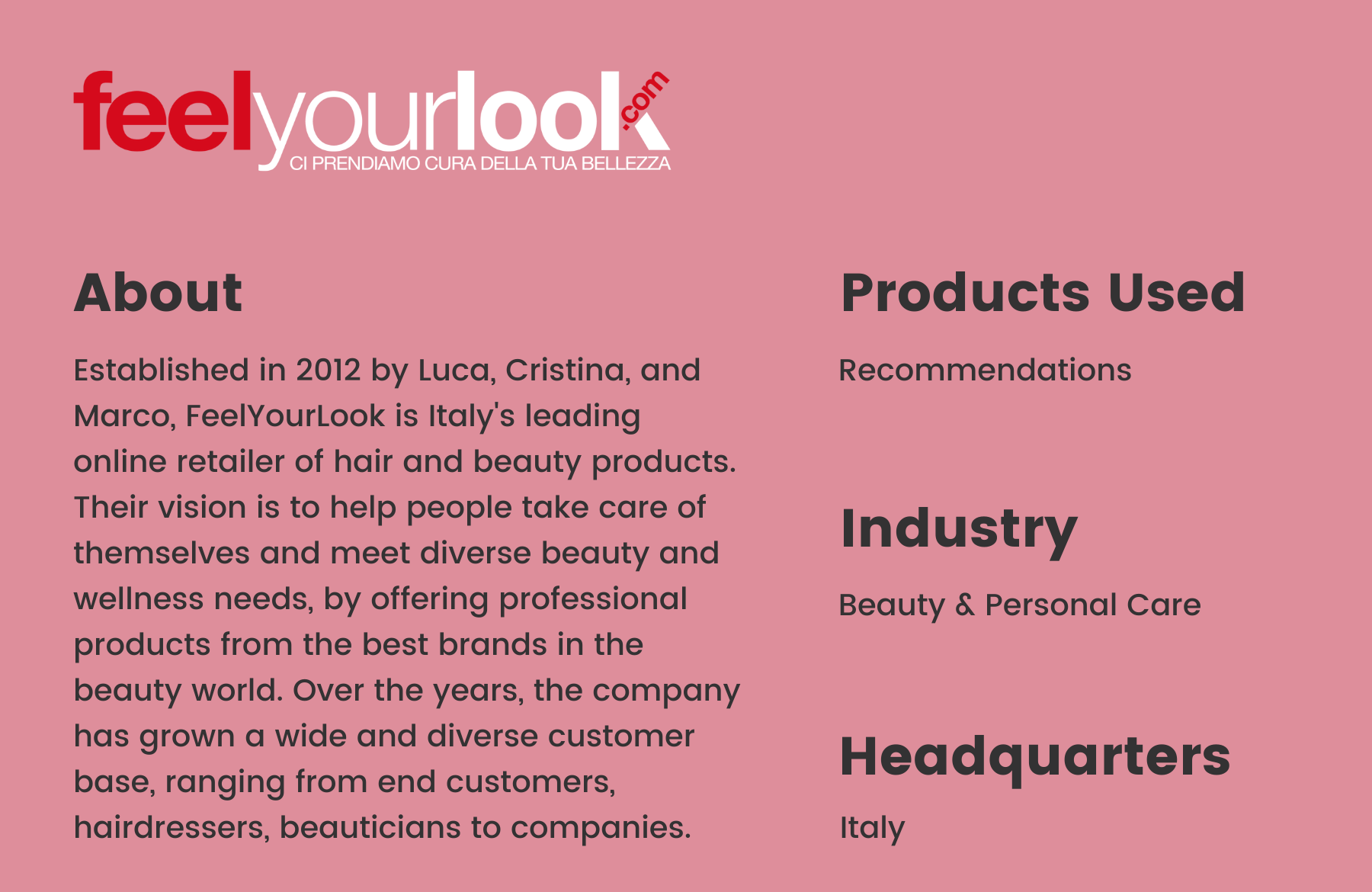 The Facts
37% of orders contain at least one product found through Clerk

24% of total revenue impacted by Clerk

26% increase in basket size

36.6% of customers buy products via product recommendations powered by Clerk

59.5x is the average ROI of Clerk's product recommendations

6.32x increase in conversion rates

Challenges
FeelYourLook has always been focused on building a successful and profitable e-commerce business. Because in comparison with their physical store, their e-commerce site can provide customers with a wider selection of products, that is, 4,000+ products across 75 different brands.
Besides that, the COVID-19 pandemic has made an already exploding trend of selling online even more important, as it accelerated the shift towards online shopping that is likely to remain. Under these circumstances, the brand quickly realized that while having new opportunities, they were also faced with a unique challenge: How to deliver seamless experiences and personalized interactions to shoppers on their e-commerce website. In such a competitive market, optimizing customer experience was the best way for FeelYourLook to stand out amongst competitors.
To further grow online sales, FeelYourLook was seeking ways to increase average order value (AOV) and basket size. The brand chose Clerk because Clerk's AI-driven personalized product recommendations can automatically create cross-selling and upselling opportunities and effectively boost conversions.
Results
Across the e-commerce website, FeelYourLook leverages Clerk's intelligent recommendation engine to automatically generate different types of product recommendations. By dynamically displaying these AI-powered personalized recommendations, the brand creates tailor-made experiences throughout a customer's entire shopping journey, at every touchpoint.
Thanks to Clerk's personalized product recommendation, FeelYourLook is able to meet various business goals:
Rely on AI (artificial intelligence) to automatically generate the perfect recommendations while saving time and removing human errors.

Improve product discovery by driving traffic around the site and increasing the number of products viewed

Increase basket size and AOV by creating cross-selling and upselling activities across the site
Homepage: Display dynamic recommendations to drive user engagement and product discovery
The homepage is often the first touchpoint of a digital shopper. On the homepage, FeelYourLook implements recommendations of best-sellers, new products, and on-sale products, aiming to help shoppers discover interesting products and the best offers in their webshop: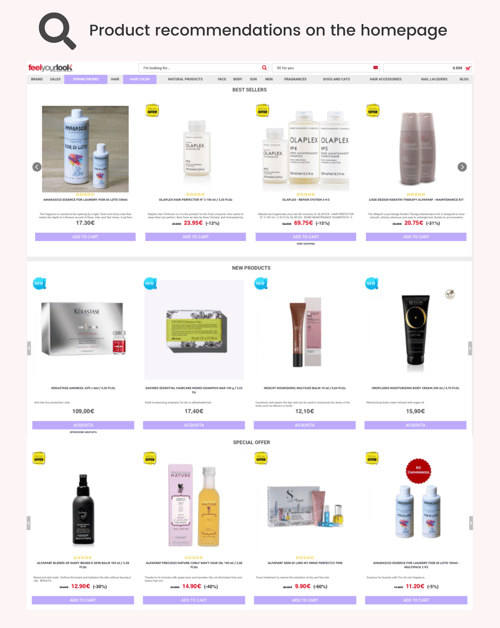 Without product recommendations, shoppers could easily get lost in the brand's massive product catalog. Now, on top of seamlessly guiding shoppers' product discovery, Clerk's recommendation banners enable FeelYourLook to drive customer engagement and traffic around the website.
Product page: Use personalized recommendation content to win conversions
In order to reduce bounce rate and drive conversions, FeelYourLook recommends similar products on product pages. Why so? This is a crucial point that can turn browsing into purchasing! The brand recommends alternative product options, just in case the shopper lands on a product page with an item that doesn't match their criteria perfectly. For example, when a customer views the product page of "L'oreal Shampoo", FeelYourLook recommends other shampoos from the same brand as well as hair masks as a combo to complement this purchase: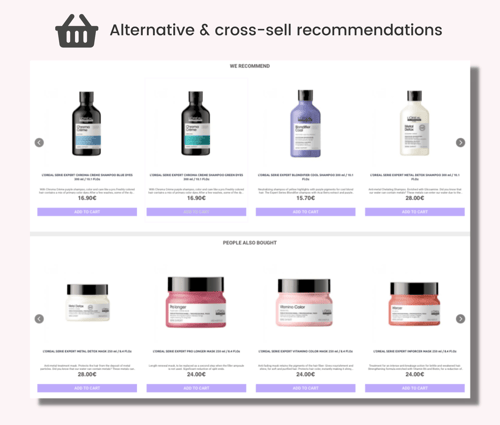 Here, besides offering alternative items to maximize conversions, the brand is also able to create cross-selling activities by presenting hair shampoo and mask as a combo 😍