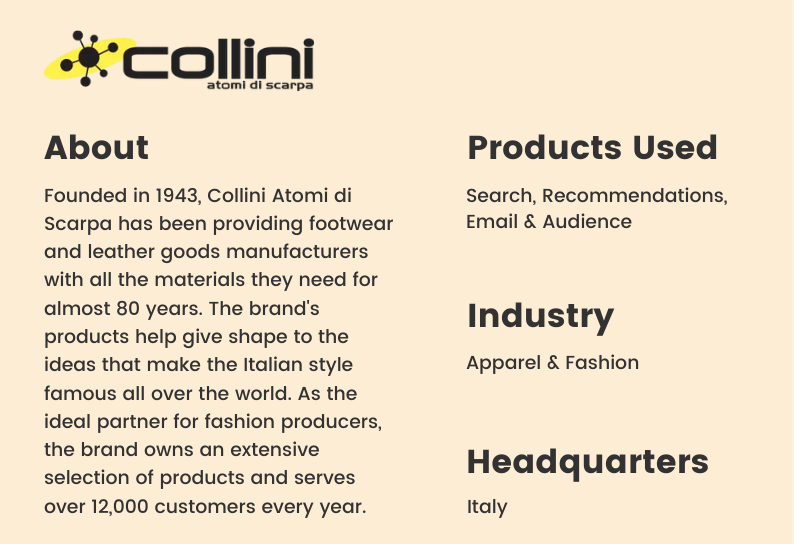 Key Stats
59% of orders contain at least one product found through Clerk

54% of total revenues came from Clerk's search, recommendation & email contents

19% growth in average basket size

43.2% of customers buy products via site search powered by Clerk

7.4x higher probability of customers converting after using Clerk search

2.62 more products added into each order with Clerk recommendations

13% of extra revenue generated from extra products customers find through Clerk

427% increase in conversion rate

Challenges
As a successful, long-lasting business in Italy, Collini Atomi di Scarpa has been a perfect partner for fashion businesses, providing materials to footwear and leather goods manufacturers. With a large customer base, the brand strives to serve over 12,000 customers a year. And over the years, Collini Atomi di Scarpa has built a massive product catalog with a great variety of categories and sub-categories. However, while the extensive catalog allowed the brand to satisfy customers' diverse needs and wants, it was confusing and difficult for customers to find the product they were looking for 😵. This issue, unfortunately, could lead to missing out on many conversions and sales opportunities. Hence, the brand was looking for a technological solution that would allow their customers to easily find the product through free text searching.
Besides, Collini Atomi di Scarpa faced another challenge associated with the massive product catalog: to give visibility to the whole catalog and all product options. Although the brand had a lot to offer, they found it challenging to show that to customers. This also constrained their webshop visitors from discovering more interesting products to purchase, resulting in smaller basket sizes and lower profits 😔.
4 years ago, after much thought and consideration, the brand decided to give Clerk a try, and they've been happy with the results ever since 🥰.
Results
Improving conversions by optimizing on-site search experience
Collini Atomi di Scarpa is very pleased and satisfied with the noticeable improvements generated by Clerk's advanced e-commerce search solutions. After optimizing its internal site search, the most remarkable achievement for the brand has been the dramatic increase in conversion rates. Before implementing Clerk, its conversion rate before was below 1%. But now, it jumps to approximately 4.3%, with the main contribution given by the Clerk's intelligent search engine. All in all, the brand achieved a 427% increase in conversion rates using Clerk 🤩