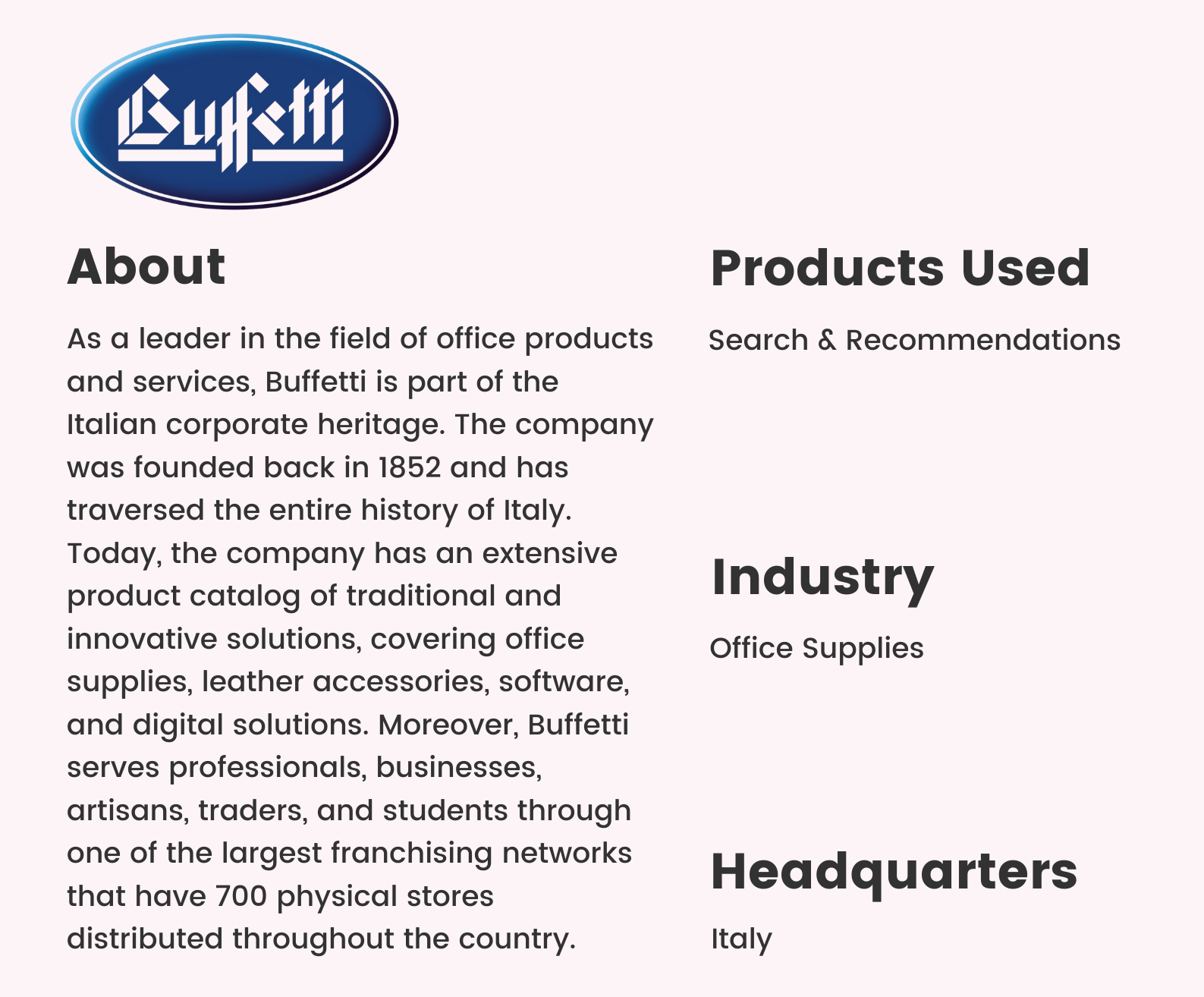 Key Stats
89% of orders contain at least one product found through Clerk

80% of its B2B webshop's revenue impacted by Clerk

77% of its B2C webshop's revenue impacted by Clerk

107.7x investments are the avg. ROI of using Clerk recommendations in its B2B shop

14.7x investments are the avg. ROI of using Clerk recommendations in its B2C shop

32.1% of webshop visitors use search while shopping

86.3% of customers buy products via site search powered by Clerk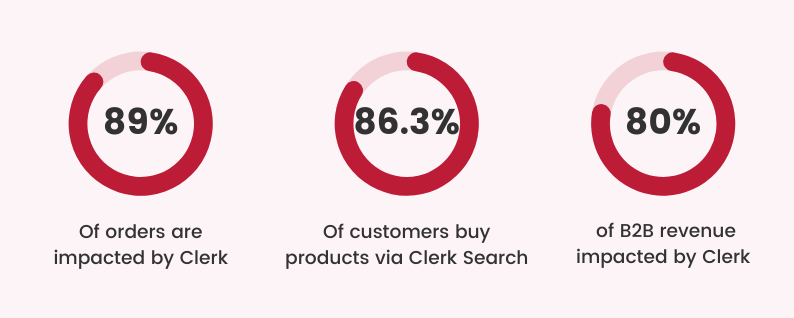 Challenges
Before using Clerk, Buffetti was in critical need of a well-functioning search engine solution to improve the performance of their B2B shop. The brand tried to implement some other tools but ended up finding them complicated and troublesome to use due to a large amount of categorization and customization required by them. So, after a few unsuccessful attempts, Buffetti decided to give Clerk a try 😉. At first, they were attracted by Clerk's ease of integration. The fact that Clerk could be integrated within a few days was of great relevance and importance, as the brand needed the search engine to be instantly live without needing excessive manual labor 👷.
Furthermore, Buffetti was looking for a tool that would allow their customers to bypass the daunting navigation through their categories, as the categories were quite detailed and complex due to the brand's vast product catalog. So, the brand needed a solution to improve their webshop visitors' navigation and search experiences 🤗.
Results
Improving search experience while reducing manual work and saving time
Previously, the Buffetti team used a traditional search tool and spent a lot of time and energy manually matching the possible search queries with products 😩. After switching to Clerk, the brand freed the human labor by letting Clerk's AI technologies take over. Today, Clerk's intelligent search engine can automatically recognize customer search intent and context and always present the most relevant products. As a result, 86.3% of Buffetti's customers now buy products via the internal site search functions powered by Clerk 😍.
Since many visitors (32.1%) use the site search function while shopping in Buffetti's e-commerce store. Buffetti utilizes Clerk to improve their customers' search experience, not only making it easier for customers to find relevant products but also suggesting relevant categories related to their search queries. Also, Clerk's Instant Search feature further optimized the search experience by reducing the time for customers to get relevant search results. As presented in the example below, after a customer typed in only two keystrokes in the search box on Buffetti's website, Clerk Search can instantly show them the perfect search results ⚡: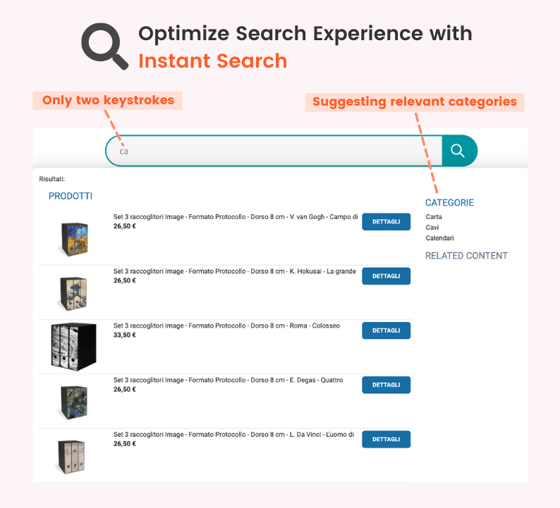 Making data-driven decisions with real-time analytics and user-friendly dashboards
Buffetti is now able to make data-driven business decisions by using detailed search reports and real-time statistical analysis provided by Clerk 📊📈. With user-friendly dashboards and clearly-presented statistical results, the brand can: 1) better understand their customers' search behaviors across different products and brands; 2) identify the products that are missing on the site; 3) detect the products that are not correctly cataloged.
Here is an example of how Buffetti can see non-converting and no-result search details via the search dashboard and how they can take immediate actions by simply clicking "Add Products" or "Add Synonym" buttons: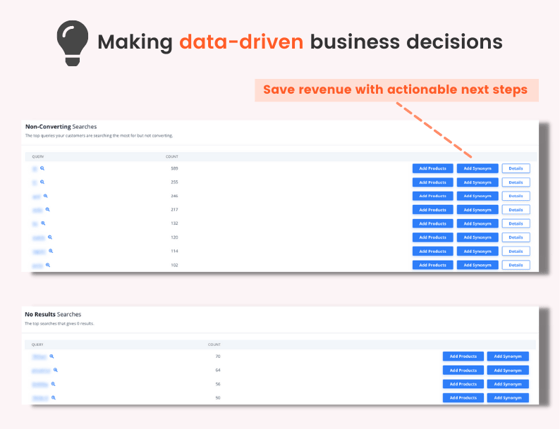 Boosting ROI and sales with AI-powered product recommendations
While an intelligent internal search engine serves as a way for Buffetti's customers to find what they want, smart product recommendations can help customers discover more interesting products, which will effectively increase basket size and sales 🛍️🚀. Clerk's AI-driven personalized recommendations guaranteed a positive ROI: the brand achieved 107.7x return on investment after using Clerk recommendations in its B2B webshop and 14.7x return on investment after using Clerk recommendations in its B2C webshop.
Here you can see how Buffetti uses Clerk to automatically displays AI-powered product recommendations (namely, "I PIÙ RICERCATI DI OGGI," which means "The Most Wanted Today" in Italian) on the homepage of its e-commerce website: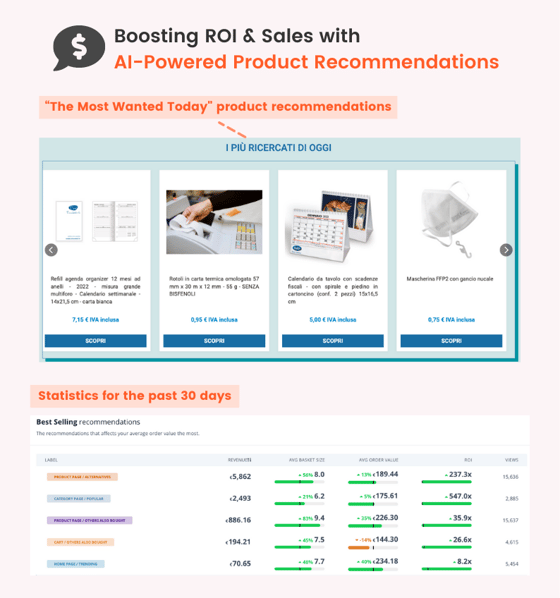 The analytics above demonstrate that these smart product recommendations are generating great revenue and positive ROI.
Buffetti team also particularly mentioned the benefits of having a direct customer success manager, an ever-present partner who can guide and support not only on the technical side, but also on the commercial side 🙌: